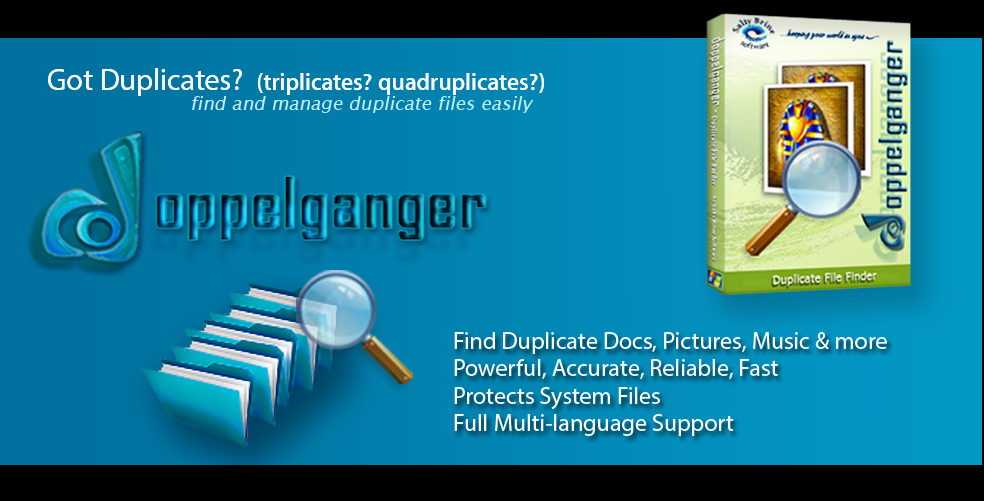 Doppelganger, is a powerful and reliable tool to find and remove duplicate pictures, documents, music files, and more! Removing duplicates frees up disk space and aids your computer in indexing. If you backup your files, removing duplicates first reduces the storage space required for the backups and the amount of time required to perform the backup. Doppelganger is a Windows file management utility that can find matching files even if their names are different!


You don't need that many copies of the same file wasting your space!

KEY FEATURES



• Find Duplicate Documents, Pictures, Music, etc.


•

Locate Duplicates with Different File Names


•

Scan Multiple Computers, Drives, Folders


•

Scan External Devices ie.Digital Cameras, MP3 Players...


•

Easy To Use - Helpful Wizards Guide Each Step


•

Supports File/Folder Names Containing Foreign Characters


•

Protects Hidden & System Files from Accidental Deletion


•

Move, Send to Recycle Bin or Permanently Delete Duplicates


•

Supports 2003, Vista, Windows 7/8.10 (32 & 64 bit)



Don't Just take our word for it... Try it!

version 1.0.5

End User Agreement

WHAT USERS ARE SAYING

"This is an awesome program. I have so far deleted 675GB of duplicate data!"


Travis S.




"I have downloaded this program, was looking for duplicates in several backups i made (10GB each)... This is the only program you need ... It has a very nice interface, no need for the help section, very intuitive, and the most important thing for me, when deleting duplicates, you can choose which ones where to delete...I love it..."


Casper - CNET user review

Search for Duplicates
Fast duplicate search using reliable, proprietary algorithms that have been tested by millions of users.
Search for files with the same contents or for files with same names/sizes/timestamps.



Scan Multiple Sources
Add multiple drives /folders for scanning.
Both Drive-Letter format and UNC formats are accepted.
Devices such as MP3 players, USB drives, and Digital Cameras that allow drive letter access can also be searched.



File Protection
Ignore protected file system objects such as System/Hidden folders/files and those in the Windows folder path.
Advanced filtering available to allow Include/Exclude of any file/folder.
Duplicates can be removed to the Recycle Bin or other folder on your system for easy restoration in order to test which files are safe to remove.



Easy To Use
Clean, attractive, intuitive user interface design makes for a quick learning curve.
Helpful wizards guide you thru every step of the process.
Duplicates can be quickly marked for removal using a Selection Assistant that allows selection of multiple files based on simple rules such as "keep the newest, remove the others".



Reports and Logs
Scan results can be exported to a text file.
All removal actions and details about problems encountered are maintained in a text-based History Log.



Unicode Support
Full multi-language support for folders/files whose names are in Chinese, Japanese, Arabic, Russian, etc...
Easy to Uninstall


All Salty Brine Software applications come with an easy to use uninstaller. If the product is not the right fit for you, follow these easy steps: Got to the 'Start Menu', find the application folder and click on the 'Uninstall' icon

.

It is a good practice to have backups of your files. Be careful to not remove the "duplicates" contained in your backups. There are some files you wish to have copies of !

Are you familiar with our other products?
Are you looking for an automated file synchronization tool? Check out FolderClone
Looking to compare and synchronize your folders? Check out FolderMatch
Looking to compare web pages? Check out HTML Match
Looking to extract text from pdfs? Check out TEXTfromPDF
Copyright Salty Brine Software - All rights reserved.